Tantric Studies
Tantric Studies. Fruits of a Franco-German project on Early Tantra.
INSTITUT FRANÇAIS DE PONDICHÉRY, ÉCOLE FRANÇAISE D'EXTRÊME-ORIENT,
ASIEN-AFRIKA-INSTITUT, UNIVERSITÄT HAMBURG
Editors:
Harunaga Isaacson (Hamburg)
Dominic Goodall (Paris/Pondicherry)
Editorial Board:
Diwakar Acharya (Kyoto)
Alexis Sanderson (Oxford)
Francesco Sferra (Naples)
Toru Tomabechi (Tokyo)
Scholarship has only rather recently begun to recognize the deep and pervasive influence which tantric traditions (initiatory and esoteric forms of religion emphasizing mantric forms of deities) have had throughout Asia, beginning from their origins in South Asia around the sixth century of the Common Era, and then spreading rapidly through Central, South-East and East Asia. Concurrently, microfilming and digitization have recently made large archives of primary source-material, such as the manuscript libraries of Kathmandu and Pondicherry, more widely accessible than they have been for centuries. Tantric Studies, a new peer-reviewed series publishing articles and book-reviews, provides a forum for research in this rapidly developing field.
Contributions from scholars working with the primary sources of tantric traditions are cordially invited. Prospective contributors to Tantric Studies should first read our guidelines. Please send enquiries to our contact address.
Volume 1, 2008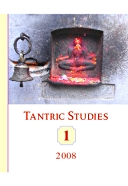 Contents and PDF for download here
Volume 2, 2016