1st International Workshop on Early Tantra convenes
16 September 2008, by Peter Pasedach
The First International Workshop on Early Tantra is scheduled to take place in Kathmandu, Nepal, from 15th to 26th September, 2008.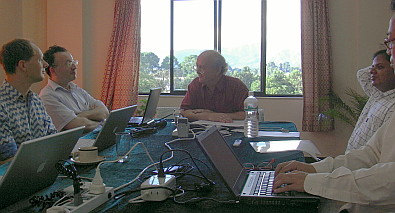 The Workshop, convened in connection with the Early Tantra project, explores the interrelationships and ritual syntax of Śaiva, Buddhist, Vaiṣṇava and Saura tantric traditions in their formative period.
In the morning sessions, participants read draft editions of the tantric works selected for the project, namely the Niśvāsa Guhyasūtra, Brahmayāmala, Mañjuśrīmūlakalpa, and an anonymous commentary on the Trisamayarājatantra.
---