This page:UHH > Humanities > Centre for Tantric Studies > About Us > News > 1st International Workshop on Early Tantra concludes
1st International Workshop on Early Tantra concludes
10 October 2008, by Peter Pasedach
The First International Workshop on Early Tantra was successfully held in Kathmandu, Nepal, from 15th to 26th September, 2008, bringing together over twenty-five participants from twelve countries.
The Workshop, consisting of readings in the morning sessions and presentations in the afternoons, was convened in connection with the Early Tantra project, which explores the interrelationships and ritual syntax of Śaiva, Buddhist, Vaiṣṇava and Saura tantric traditions in their formative period.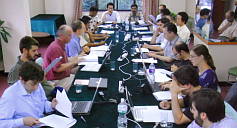 There were two public presentations, the first given by Prof. Alexis Sanderson (Oxford), summarising his work on 'The Śaiva Age', a study of Śaivism's rise to prominence and its relationship with other religious currents during the early medieval period. The second public presentation, scheduled for the workshop's closing session, was given by Péter-Dániel Szántó, and discussed various aspects of the Catuṣpīṭhatantra.